If you want to edit PDF, or save the PDF file to another file format for easier management, such as doc or docx. There are many premium options, such as Abbyy Fine Reader Express, available on the Mac App Store to choose from. However, here are 2 ways to edit PDF files for free, simple and effective.
Related posts
How to install Sumatra PDF
Instructions for reading and viewing PDF files in Sumatra PDF
(Giveaway) Sonic PDF Creator royalty free, create and edit PDF from July 8 to July 9
(Giveaway) Register PDF OCR copyright, view and edit PDF on July 1
(Giveaway) Copyright free PDF Impress 2014, create and edit PDF
PDF document files are mostly images, but in practice many other documents are exported in PDF format because this file format is quite popular with free tools on all platforms. 2 ways to edit PDF for free, simple and effective mentioned by ElectrodealPro will help you manipulate PDF more quickly.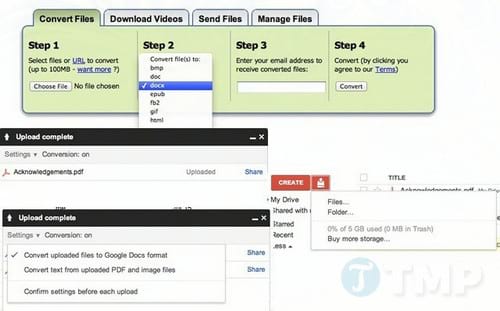 2 ways to edit PDF files for free, simply and effectively
Way 1
The first way to edit PDF files for free, simply and effectively, that ElectrodealPro wants to introduce to you here is to edit PDF files online.
To edit PDF files for free, the first step is to open any browser on your computer, then visit the site. HERENext, choose a PDF file from your computer. The second step is to choose the document format you want to convert to.
Note that there are many formats to convert, including EPUB and HTML. In the example above the selected format is doc or docx. The third step is to enter your email address, and the final step is to click the Convert button.
At this point you will receive an email with a link to download the file in the format you have converted.
Method 2
There are many features on Google Docs that users need to know one of the features on Google Docs is a free, simple and effective way to edit PDF files with Google Docs. Sign in to your Google Docs account (now called Google Drive), then click the upload icon next to the button. Create Orange.
A popup menu will appear on the screen, where you choose Files then select the PDF file you want to convert. You can click Settings to display the upload window. Make sure both options are checked Convert uploaded files and Convert text boxes to get the best results.
The file will show up in the Google documents list. Click the name of the document and allow the document to be opened. On the Google Docs editing window, click File menu =>Download as. Choose the format you want, including .doc, .docx, .rtf, and even .txt.
Note: The layout of the converted files will be the same as the original file layout.
Above are two simple and effective ways to edit PDF files that ElectrodealPro just instructed you to. In addition to the free PDF editing methods outlined above, you can also use some computer-installed tools such as Foxit Reader or Adobe Reader, especially editing PDF with Foxit Reader extremely simple and fast.
In addition, you can convert PDF to Word online or Offline to edit documents, then use the way to convert Word to PDF to save the original PDF file, there are many ways to support users to convert PDF to Word. You can choose to use the software or convert pdf to Word online. Normally, these software and services support the reverse which is converting Word to PDF.
https://thuthuat.taimienphi.vn/2-cach-chinh-sua-file-pdf-mien-phi-don-gian-va-hieu-qua-25722n.aspx
Hopefully after this article you will know some more ways to edit PDF files for your work and study.
.