Around the price range of 30 million, the HP Omen 15 AMD is the "standard" choice for those who both want to buy a laptop for work, study and also want to be able to battle configuration games. anytime and anywhere.
Configuration
Equipped with AMD's latest powerful 16-thread R7 4800H octa-core 16-core processor, OMEN 15 lets users open tabs. Regardless of processing billions of dollars or running deadline overnight, customers don't need to spend any extra brain cells bothering them, allowing users to use "100% brain power" to complete a task.
Comes with that is the Nvidia Geforce GTX 1660Ti 6GB graphics card with extremely strong performance, enough to balance all types of AAA max fps games. And the main highlight of OMEN 15 is that the 15.6 "144Hz FHD IPS (1920 x 1080) anti-glare panel. bring to gamers.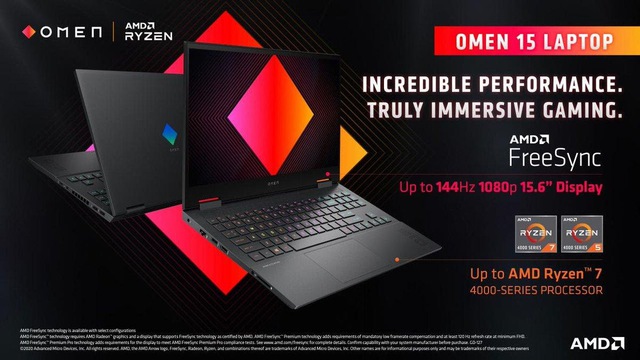 But the unexpected thing that makes me unable to believe that the eyes that are closer than 4 degrees are the excellent color quality that exceeds the expectations that a gaming laptop brings. OMEN 15's panel can display 96% sRGB, 73% AdobeRGB and 71.8% DCI-P3, outperforming Xenia (71.2%) and close to the expensive Dell G5 (77%).
Anyone who works as an editor or designer can completely consider this extremely hot "son" from this HP if the money is not too expensive. Finally, 512 GB m.2 NVMe SSD "thunder transmission" speed has enough basis to accept all games up to hundreds of GB capacity and download speed games from your fiber-optic Internet connection. No need to be afraid of the 100% Windows disk usage error.
Design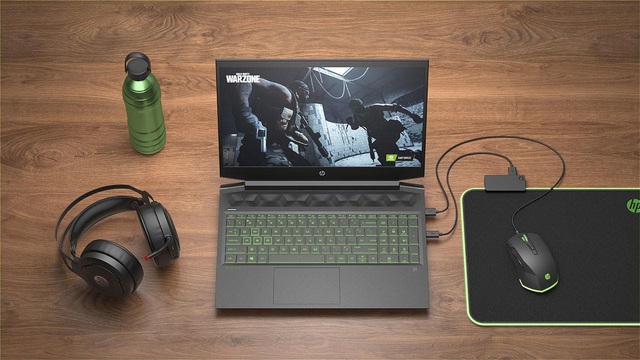 OMEN 15 AMD gives you a sense of personality, strong, but not too aggressive, not "howling" as most of the other massively designed gaming laptops on the market. On the contrary, the new representative of HP exudes a modern, fancy style with a focus on a luxuriously reflective turquoise blue diamond logo with dark gray "OMEN" branding. background color of the machine.
Very similar to Alienware's style, directing all attention to its brand without being overbearing. High quality plastic material ensures aesthetics as well as durability for the body frame and contributes to reducing the machine weight, making the user experience more convenient and comfortable. Aluminum keyboard frame and palm rest feel extremely solid and luxurious.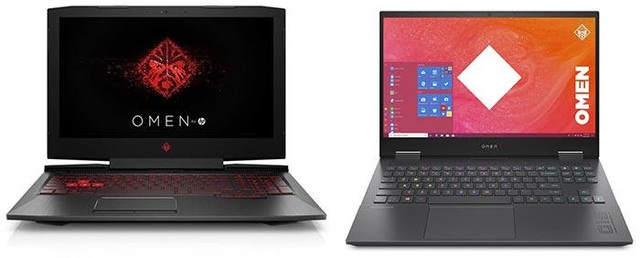 Thin screen bezels on the 3 outer edges and the pair of solid and supple screen cables. The left side features a USB 3.2 Gen 1 Type-A port, HDMI 2.01a, a 3.5mm headphone / microphone port, and a full-size SD card reader slot. On the right side are two USB Type-A ports and a USB 3.2 Gen 1 Type-C port with a mini DisplayPort.
OMEN 15 weighs 2.5 kg, the dimensions of the sides are 358.1 x 238.8 x 22.9 (mm) respectively.
Keyboard and touchpad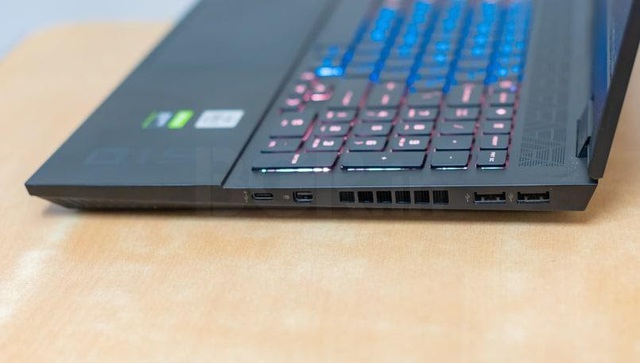 OMEN owns a very great keyboard, ensuring to satisfy the needs of gaming and working. Sensitive enough to battle the game and not too loose, so typing in documents must be said to be carefree. In addition, the RGB backlight makes it extremely convenient to use in low-light environments.
The spacious, 2.9 x 4.5 inches, touchpad that's much smoother and more sensitive than your crush's hearing before the countdown date ensures a complete experience without criticism.
Webcam and sound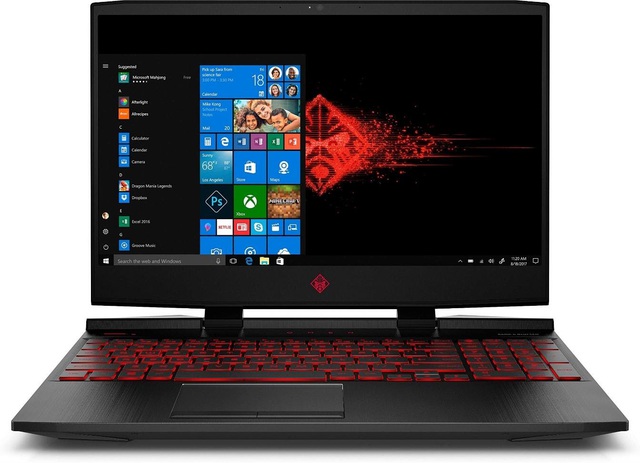 Surely not many users today care or expect too much from the webcam and integrated speaker system on the laptop very much. Ah forget, nowadays, many of you will probably need to use them for online learning or seminar so it's something to consider anyway. And fortunately HP has equipped OMEN 15 "kit" quite good. Webcam can fully record all horizontal strokes and curves on your face and not able to detect pores or acne. Great plus point, right.
The sound system by Bang & Olufsen-tuned will help you clearly hear every word of the instructor or each beat of the floor music you are playing in the background to make the lesson "catchy".
Radiators

"Thermal enthusiasts" do not worry because HP has equipped a quality fan cooling system to keep you from getting burned when using the machine. Turn the game on and let the fan run "release the gas", the keyboard touches 39 degrees C, just as warm as a lover's hand, 31-degree touchpad. The hottest point at the bottom of the machine is only 56 degrees. Use peace of mind. But what to worry about when the cold season is coming?
summary
In short, when Tet is coming, you will have more good choices for the mid-range segment to promote the value of the money. Balance in terms of power, design, weight as well as temperature is nothing to be confused about. Just go to the electronics and boldly call the name HP OMEN 15 AMD 4800H!