(Techz.vn) Lazada Vietnam recorded many memorable marks in 2020 with its efforts to accompany consumers, sellers, partner brands and the community to overcome the challenges caused by the Covid-19 translation.
In 2020, Lazada will also focus on developing new categories such as fresh food and diversifying items on the floor to better serve the needs of consumers. Not only giving consumers more incentives in the past year, Lazada also expanded its strategy of free shipping, while supporting more and more brands and sellers to do business effectively on commercial platforms. electronic.
Mr. James Dong – General Director of Lazada Vietnam said: "2020 is a special year with many unprecedented events, forcing all of us to look back and change the way we exchange, work and shop. I am really impressed with the ability to adapt and strongly overcome difficulties but still optimistic towards the future of the community. In the new normal phase, Lazada also had to change and adapt to achieve many impressive milestones. Looking forward to 2021, we will continue to accompany partner brands and sellers to continue to grow and bring better shopping experiences to customers.. "
Here are some prominent highlights of Lazada Vietnam in 2020:
Supporting small and medium enterprises to transform digitally and effectively on e-commerce.
The number of vendors doing business on Lazada has increased by nearly 2 times.
In the first wave of the Covid-19 epidemic, Lazada deployed an economic stimulus package for 110,000 small and medium enterprises.
Lazada Academy also continues to expand its support for sellers when they announced a partnership with Google in November 2020 to provide free online vendor training courses, help them equip them with skills and boost their sales. push business growth on a digital platform.
Continuing to expand the Shoppertainment strategy – shopping combined with entertainment:
In 2020, Lazada has boosted its investment with the number of livestream episodes increasing more than 10 times.
The number of daily livestream views on the Lazada app increased by nearly 25 times. In particular, the concert before the Shopping Festival attracted up to 15 million views.
Number of successful orders through LazLive channel increased 45 times. With this positive result, livestream is becoming a favorite tool of many brands and sellers.
The number of customers who regularly interact with LazGame every day has increased by more than 2.5 times.
The number of customers collecting LazCoin coins increased more than 2 times, in which the number of coins collected by each customer was also 3 times higher.
Most of the big brands are present on Lazada, meeting the increasingly diverse shopping needs of consumers.
LazMall – Lazada's genuine store system, recorded an increase in the number of orders and customers more than 3 times during shopping festivals and more than 2 times on weekdays.
In 2020, Lazada Vietnam will also coordinate with brands from many industries to bring more than 20 Super Brand Festival Days to consumers. This is a 24-hour shopping event dedicated to a prominent brand on Lazada with exclusive offers for consumers. Turnover on these days is 140 times higher than weekdays and nearly 2 times higher than major shopping festivals.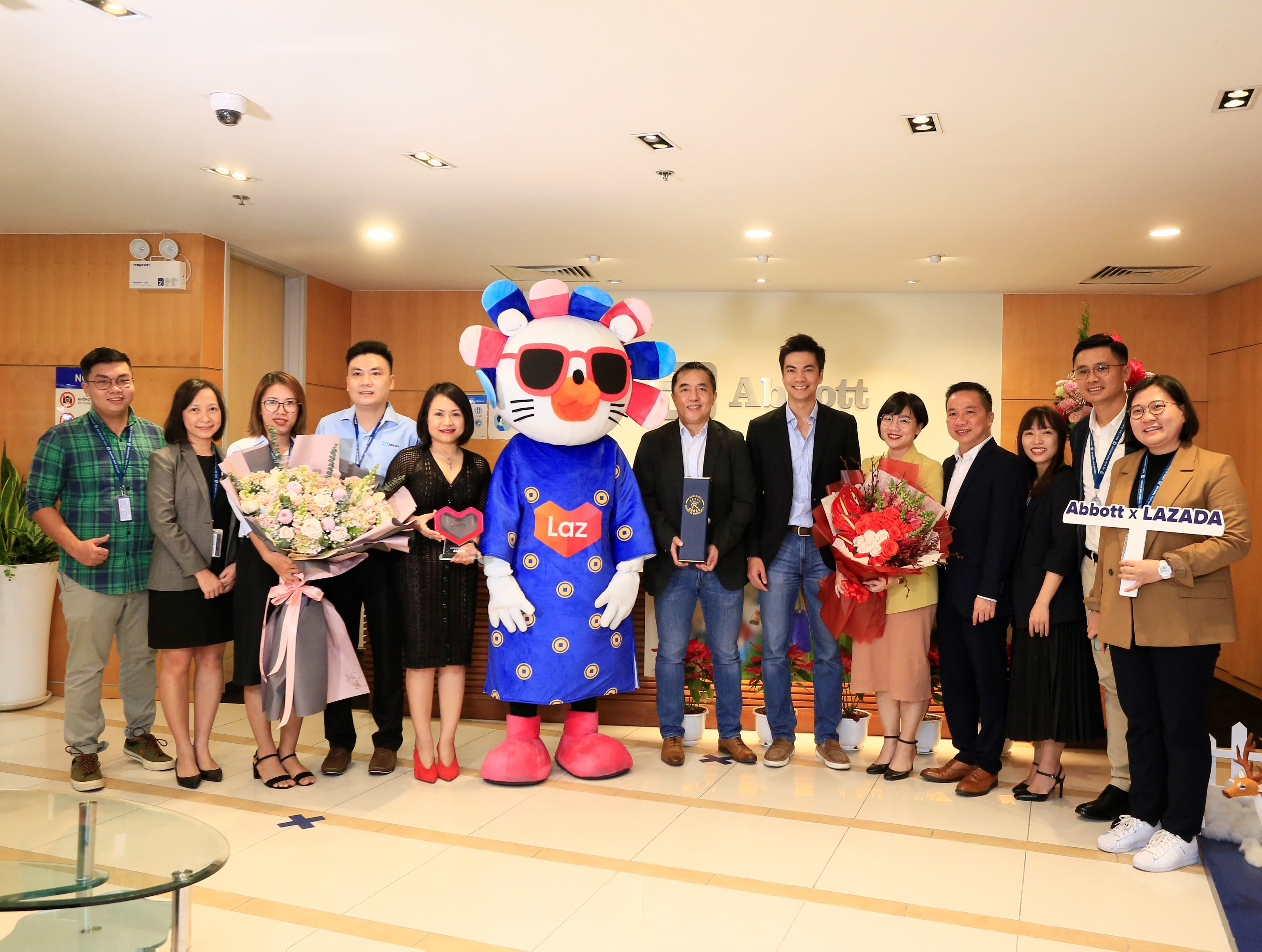 In November 2020, Lazada Vietnam is the first e-commerce platform in Vietnam to cooperate with the Danish Embassy to launch a website of genuine Danish brands.
In December 2020, Lazada Vietnam announced and awarded the Lazada Brand Awards for 12 outstanding brands in 2020, including: Xiaomi, Abbott, Adidas, Kiehl's, La Roche-Posay, Samsung, TCL, Tefal, Unilever. , GUMAC, JBL and Lock & Lock.
Pioneering in bringing effective marketing solutions to vendors and brands:
Lazada Vietnam is the first e-commerce platform to provide affiliate marketing solutions to help sellers and brands drive sales with reasonable investment, bringing high profit margins.
Affiliate marketing maximizes brand awareness and leads to store traffic through a network of content creators, influencers (KOLs), and high-traffic news sites. …
Affiliate marketing has shown the effectiveness for the sales and brands' business (data from October 1 to December 31, 2020):
Revenue for the day of the campaign is increased nearly 6 times compared to the normal day
Nearly 600,000 orders were generated by the affiliate marketing solution during the last two shopping festivals of November 11 and December 12.
The highest revenue generated from a KOL in the brand's super brand festival is more than 4 billion VND.
Accompany the community to overcome challenges in 2020 from the influence of the Covid-19 epidemic:
In the first wave of the Covid-19 epidemic, Lazada activated the contactless delivery service, at the same time supported 100,000 masks and 10,000 protective suits; Two donated negative-pressure isolation chambers resupply the front line of the anti-epidemic.
In July 2020, Lazada also released the MV "Bright Eyes Not yet Co Vy" with the message of optimism on the victory of the epidemic and how to prevent it. This MV has reached more than 1.3 million views on Youtube after just 1 day.
In December 2020, Lazada awarded more than 20,000 books, 2,000 notebooks, 11,000 learning kits and 200 student backpacks to representatives of 10 primary and secondary schools in the city. Dong Ha and Gio Linh district, Quang Tri province are severely affected by typhoons and floods.
Ending the volatile 2020 year, Lazada Vietnam will kick off the year 2021 with the shopping festival "Tet 21, Take Single" from January 19 to 28, 2021 with a variety of Tet items, with incentives up to 50 % and free delivery. "New Year 21, Pegging" is part of Lazada's promotional activities to bring joy, peace of mind to consumers, towards a smooth, lucky and much successful 2021.
.