Why is Dang Gia Electronics a reputable address for selling air compressors and lifting bridges?
Quality guaranteed
The products are 100% genuine imported from famous brands such as Puma, Fusheng, Pegasus, Palada, V-Jet … with full proof of origin.
Dang Gia Electronics is a reputable distributor of air compressors and lifting bridges
Product diversity
Dang Gia distributes various types of mini, industrial and high-pressure compressors in a variety of models, capacity and types of automotive lifting bridges, with a variety of types and costs such as 1-cylinder, 2-cylinder, 4-cylinder lifting bridge. and scissor. From there, it helps customers to have more options in accordance with their needs and financial capacity.
Reasonable price
Air compressors and lifting bridges are imported directly by Dang Gia from manufacturers, without intermediaries, so they have the most competitive prices in the market. Besides, there are many promotions to help customers buy products with the cheapest price.
Warranty guarantee
Products are warranted according to the genuine manufacturer, from 12 months or more, to ensure the interests of customers.
Sales service, good care
A team of well-trained consultants, ready to listen and advise to help customers buy the most suitable product. A team of highly skilled and experienced technicians support installation, repair and maintenance throughout the process of using the product.
Air compressor products are distributed at Dang Gia
Puma
Puma is the most popular air compressor brand in Vietnam market, used in many industries such as auto repair shop, carpentry workshop, mechanic, mining, medical, food processing …
Puma air compressors have good quality, high durability, and ability to operate continuously at high frequency. In particular, the machine is equipped with soundproof cover, reducing vibration during operation, causing less unpleasant noise, so it is very popular with customers.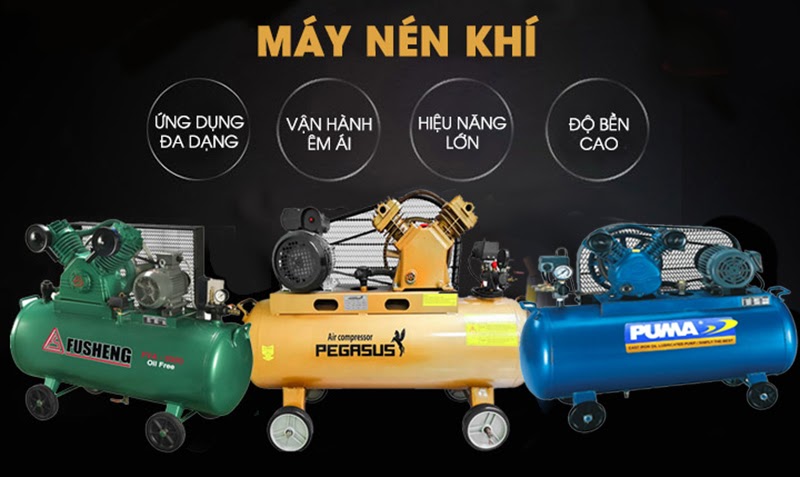 3 best-selling compressor brands in Dang Gia Electronics
Pegasus
Pegasus is a brand of cheap air compressors made in Vietnam but with good quality, equivalent to imported machines. The products are manufactured on advanced technology lines, international standards, have good working performance with high compression ratio, smooth and stable operation.
In particular, Pegasus compressors have many levels of capacity with prices ranging from 3-45 million VND, suitable for many customer segments.
Fusheng
Fusheng air compressors have good performance, long life, less problems and failures due to the composition of high-grade materials, anti-rust, corrosion. In addition, the machine is less hot when working continuously, ensuring stable operation, so many customers choose.
Fusheng produces a wide range of oil-free, screw, piston and piston compressors with capacities from 1-15 HP or 7.5 – 75kW, giving customers many options.
High-selling forklift products at Dang Gia
1-pillar lift bridge
This type of lift bridge is most commonly used in professional car wash shops because it is compact, convenient and has a load capacity of up to 4 tons, lifting small cars and passenger cars.
With the ability to rotate 360 ​​degrees of flexibility, easy to adjust the height of the trolley, the 1-column car washing lift helps the process of spraying the underbody, the wheel becomes easy and fast, with high cleaning efficiency.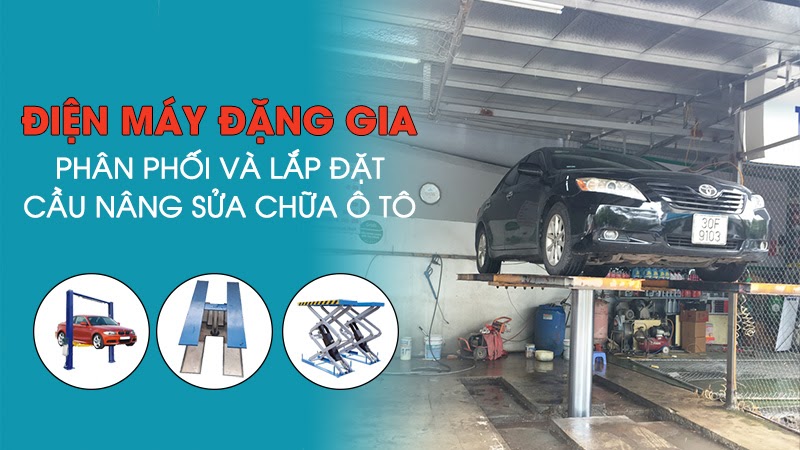 Dang Gia Electronics distributes many types of lifting bridges
2-pillar lift bridge
This type of car lift bridge is used a lot at professional car repair centers. Currently, the 2-pillar lift bridge consists of two main types, which are the 2-pillar lift bridge, the upper brace type (gate type) and the lower brace type. The device creates a large space under the car, helping the mechanic easily manipulate and repair under the car.
Scissor lift
This type of lift bridge is versatile, often used in repairing large trucks thanks to the ability to align the angle of the vehicle, check the angle of the kingpin, caster, camber … with high accuracy.
In addition, this device can be folded or stretched when needed, helping to save space, suitable for small work areas.
Currently, Dang Gia Electronics is distributing famous brands such as: Indian lift bridge, V-Jet, Autolift, Senok … with long-term warranty.
Besides air compressors, lifting bridges, Dang Gia Electronics is also a distributor of industrial equipment such as vacuum cleaners, floor scrubbers, car washers … If you need advice and order, please contact us immediately. With us according to the information below.
DANG GIA ONLINE TRADING JOINT STOCK COMPANY
VP. Hanoi:
A14 Building, Ngach 3/10 Lien Co Street, Nam Tu Liem District, Hanoi
Hotline: 0977 658 099 – 0983 530 698
VP. Ho Chi Minh City:
No. 54/18 Street No. 21, Ward 8, Go Vap District, City. Ho Chi Minh
Hotline: 0983 113 582 – 0989 257 076
Email: info@trungtammuasam.vn
Top 5 best oil-free air compressors 2020
(Techz.vn) Are you looking for an oil-free air compressor device but do not know which one to buy because there are many products from different manufacturers on the market? Don't worry, in the following article, we will introduce to you the top 5 best oil-free air compressors available today.
.