A gluttonous feast for gamers ROG releases a variety of blockbuster new products
January 13, 2021 21:16
Author: Li military
Editor: Li Jungong
Article source: Paobao.com original
On January 13, 2021, ROG held the ROG 2021 new product launch event. At this launch event, ROG updated many of its products and also launched ROG's first 13-inch flip touch screen with light and high performance The Almighty Book-Magic 13, will not only bring more and stronger flagship e-sports books to gamers, but also professional players will bring new choices, whether they are e-sports enthusiasts or content creators, in 2021 You can choose your favorite ROG products every year.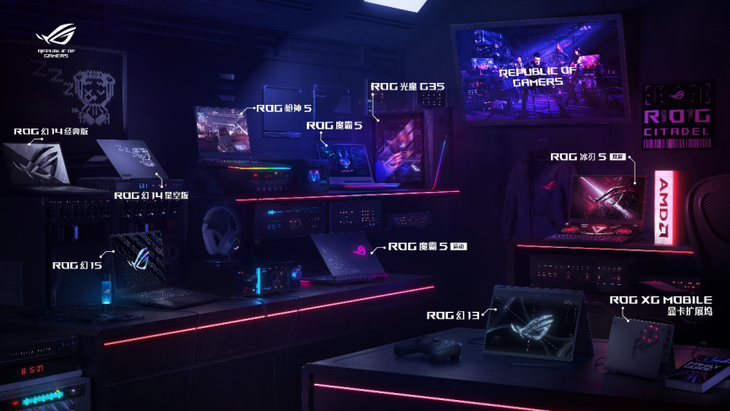 Innovative release will allow users to experience new products immersively
The new product launch of ROG is different from the past, because it adopts the form of online release, so it also provides more creative space for ROG. ROG draws inspiration from the game to create a new interactive experience form-"ROG Citadel XV", through the form of the game to allow players to get an immersive experience.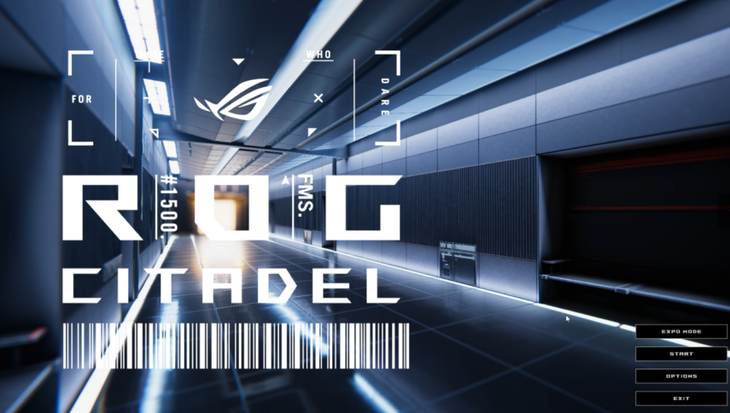 "ROG Citadel XV" is full of futuristic world technology style. Players become game characters and participate in the ROG game world. They understand the ROG visual world from a first-person perspective, allowing the audience to get a closer look at the ROG visual world and experience the latest gaming equipment. Players can freely explore four themed exhibition halls in the game and experience ROG's newly released laptops, e-sports monitors, and many ROG e-sports peripherals. This is also the industry's first interactive game made for the press conference.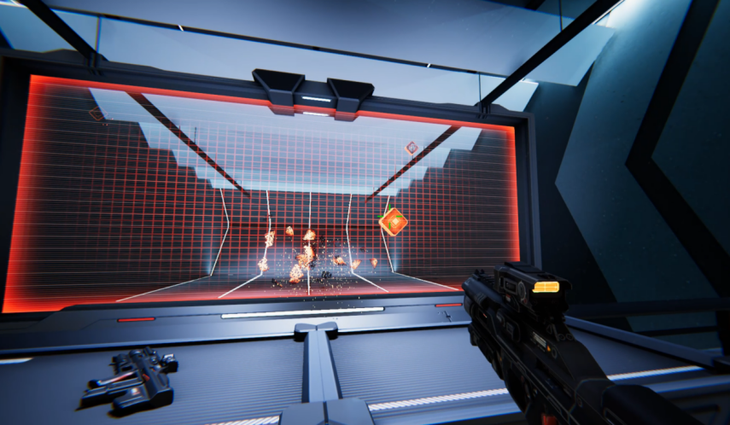 In addition to viewing new product information, players can also test their aim and reaction speed by shooting in "ROG Citadel XV", and can obtain corresponding scores. "ROG Citadel XV" is a ROG exclusive game. It was launched on Steam on January 13th. Players can search for free downloads. In the future, ROG will provide more downloadable content on this basis.
A must-have artifact for professional e-sports game players
ROG is the belief choice of many gamers, and the ROG Gunsling 5 series is the high-end series in ROG gaming books. The new ROG Gunsling 5 series can subtract the size and weight of the body while also reducing the specifications. Be the top in the industry again.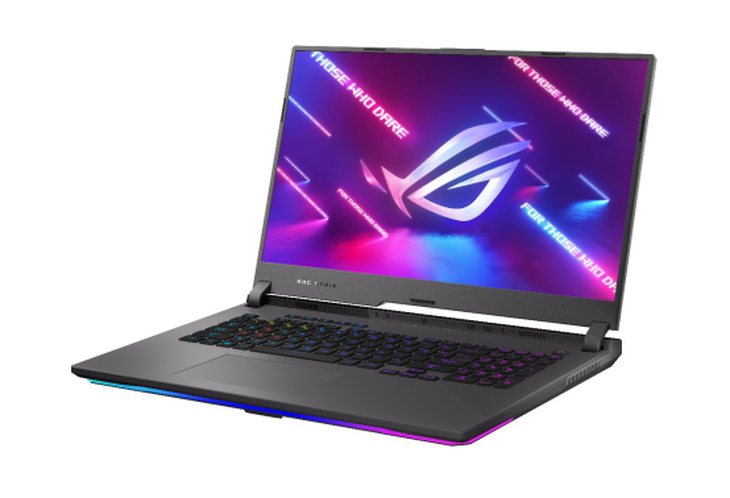 ROG Gun God 5 series is equipped with a new generation of AMD Ryzen 9 5900HX overclocking processor, the new Zen 3 architecture blessing, with 8 cores and 16 threads, through the ROG performance optimization design and the glacier cooling architecture 2.0 blessing, can provide continuous and stable high Performance output. In terms of graphics cards, players can choose the 130W high-performance version of NVIDIA® GeForce RTX™ 3070/3080 graphics cards to create clear, vivid, and lifelike screen effects for players.
As for the screen, ROG Gunshin 5 Plus can be equipped with an FHD IPS gaming screen with a refresh rate of up to 360hz and a 3ms response time, allowing players to fully enjoy the thrill of a fast screen.
In addition, ROG Gun God 5 adopts a new design, compared with the previous generation product, the overall volume is reduced by 7%, the upgraded version of the surround suspension light strip, A-side RGB lighting effect ROG Logo, a new generation of keystones and randomly included It can replace the personalized belief badges to bring players a personalized gaming experience. In addition, the gun god 5 C surface adopts a new translucent material, which not only can see the internal structure of the fuselage, but also makes it difficult to leave fingerprints.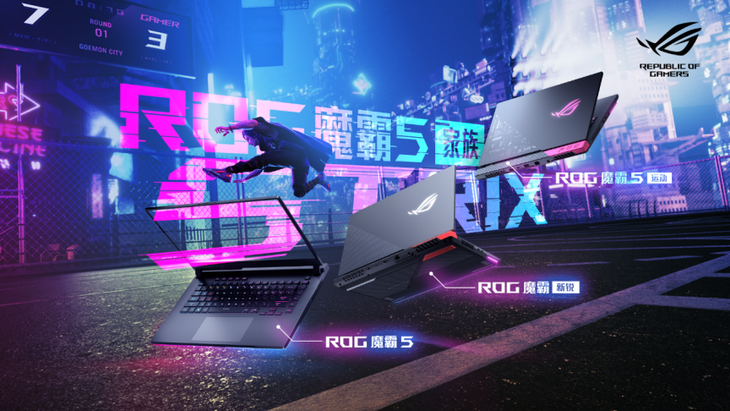 In addition to the Gun God 5 series, ROG has updated the Moba series products. The new Moba series includes Moba 5, Moba 5 Plus, Moba 5 sports version and Moba cutting-edge, the most concerned is ROG Moba 5 Plus, it is equipped with a new generation of AMD Ryzen 9 5900HX overclocked processor, has a flagship specification of 8 cores and 16 threads, and uses the latest AMD Zen 3 architecture. Compared with Zen 1 architecture, Zen 3 architecture has a performance increase of up to 2.4 per watt. At the same time, it has brought a 24% increase in energy efficiency.
In terms of graphics card, the 130W high-performance version of NVIDIA® GeForce RTX™ 3060/3070 graphics card is selected, with a high-speed gaming screen of up to 300Hz 3ms and the newly upgraded Glacier cooling architecture 2.0, ensuring that players have a high-quality gaming experience. In addition, ROG Moba 5 Plus adopts a brand-new exterior design, using laser etching technology to create a unique ID visual sense, and there is an RGB chassis light bar at the bottom, which shows the avant-garde visual effect of the illusion, and comes with a replaceable faith badge. Fully demonstrate the player's personality.
High-performance and stable output ROG Ice Blade 5 dual-screen performance recreates its peak
ROG Ice Blade 5 dual screen continues the previous innovative dual-screen design, and has been upgraded again on the basis of the glacier cooling system 2.0 Pro and ROG innovatively developed AAS Plus cooling system, ensuring efficient and stable release of overall performance .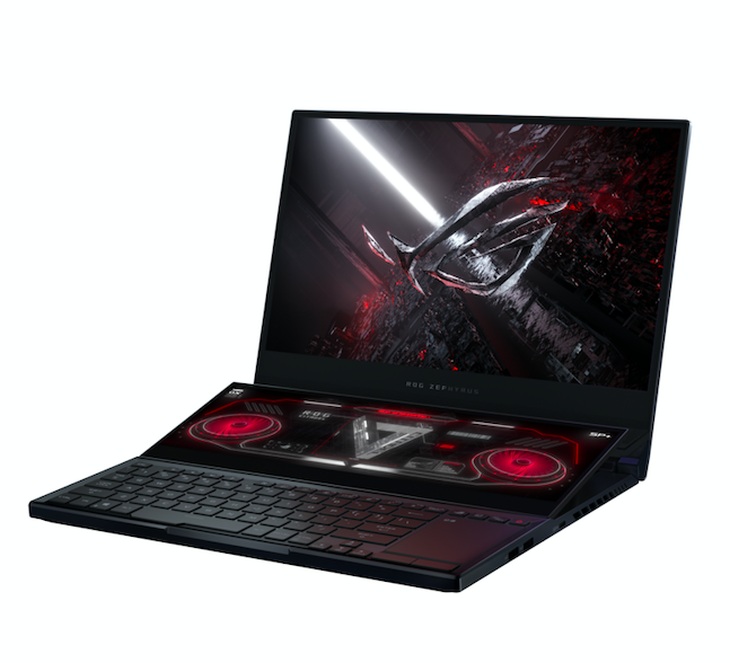 The main screen of ROG Ice Blade 5 dual screen is 15.6-inch, which is a 4K HUD resolution IPS wide viewing angle screen, 120Hz refresh rate and 3ms response speed. The main screen covers 100% AdobeRGB professional wide color gamut, and has Adaptive Sync technology, which brings fast, delicate and smooth picture enjoyment to players.
The size of the secondary screen is 14 inches. When the notebook is turned on, the 14-inch ScreenPad Plus touch-sensitive secondary screen will automatically rise by 13° to achieve seamless interaction with the main screen. The secondary screen is 4K UHD resolution, covering 100% sRGB wide color gamut, allowing players to experience the fun of the game more immersively in the dual attention world.
In terms of core configuration, ROG Ice Blade 5 dual screen is equipped with AMD Ryzen 9 5900HX overclocking processor, based on 7nm process technology and Zen 3 architecture, with 8 cores and 16 threads, performance reaches the flagship specifications of mobile platforms, graphics cards can be equipped with NVIDIA ®GeForce RTX™ 3080 graphics card 130W high-performance version, 16G GDDR6 video memory, players can play 3A masterpieces at high frame rates, allowing creators to efficiently complete video rendering and other creative tasks.
The all-rounder ROG ring series for office entertainment has been updated
ROG Magic series as an "all-rounder", three new products were launched this time, including Magic 13, Magic 14, and Magic 15. Among them, Magic 13 was released for the first time. It can not only meet user needs for performance, but also has It has the characteristics of being thin and portable.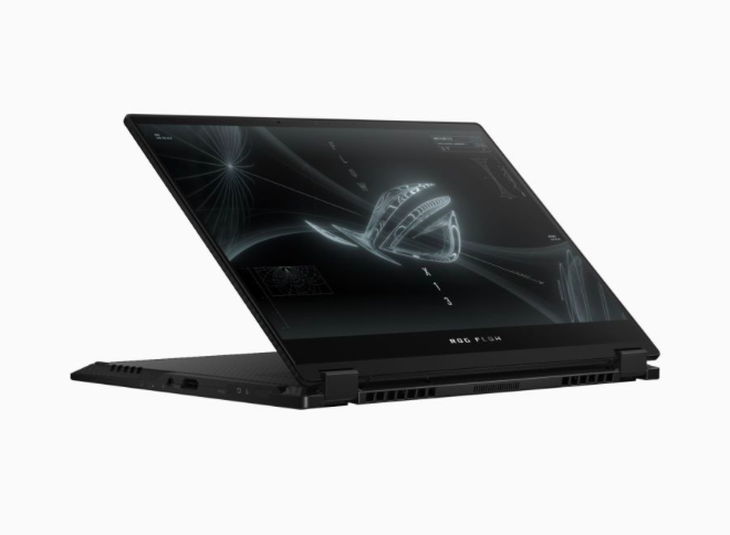 ROG Magic 13 can also be used in four modes including laptop, tablet, sharing and gaming. The multi-functional flip design, coupled with a body that is about 1.3kg lighter and as thin as 15.8mm, enables users to adapt to various environments and scenarios.
ROG Magic 13 slim and light all-rounder uses a 16:10 ratio 120Hz IPS Gorilla Glass touch screen and supports active stylus. At the same time, the screen quality is also very versatile, with 100% sRGB color gamut Pantone certified color and supports Adaptive sync technology.
In terms of configuration, ROG Magic 13 is a thin and light all-rounder equipped with AMD Ryzen 9 5980HS processor and NVIDIA® GeForce GTX™ 1650 graphics card. In order to meet the high-performance needs of users, ROG Magic 13 is also equipped with a unique ROG XG graphics expansion dock. Through the ultra-high bandwidth of PCIe 3.0 x8, it can provide 63Gb/s ultra-high bandwidth and losslessly connect to NVIDIA® GeForce RTX™ 3080 graphics card. Its maximum operating power is 150W.
The ROG XG graphics card docking station has a built-in 280W adapter that can charge the notebook and the external graphics card at the same time. You can switch between graphics cards without restarting. The docking station supports expansion of up to 7 ports and a card reader, plus the abundant ports of the Phantom 13 body, which can support a total of four external displays. In addition, the ROG XG graphics card docking station is quite portable, weighing only 1kg, and its size is only 6% of the conventional external graphics card docking station.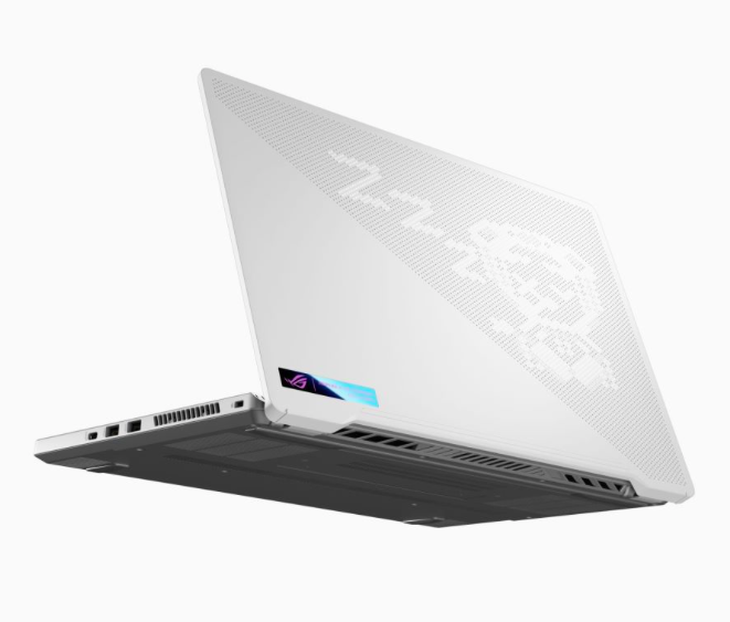 The new generation of ROG Magic 14's AniMe Matrix™ light display matrix screen has received a major upgrade, and the ROG Pokemon table pet function has been added. On the display panel, ROG Magic 14 uses a 120Hz WQHD resolution all-round screen, has a 100% DCI-P3 wide color gamut, and has obtained Pantone color certification.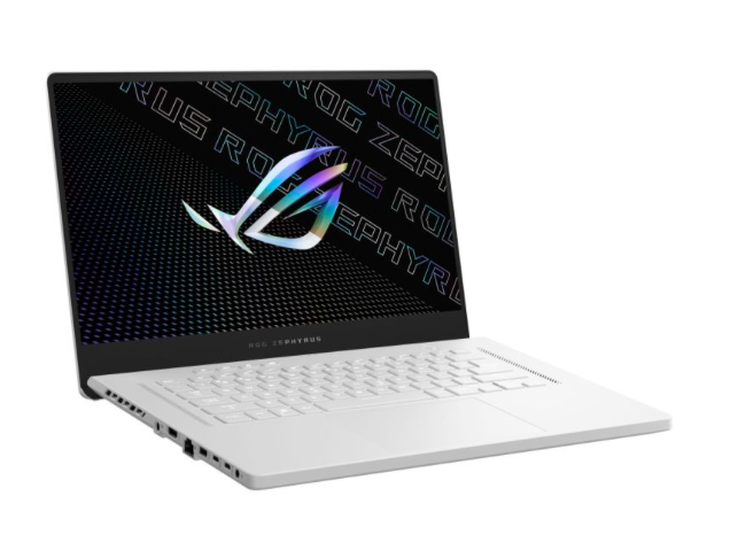 ROG Magic 15 high-performance all-around notebook uses a 15.6-inch 2K resolution QHD all-around IPS screen with a three-sided narrow frame design, 100% DCI-P3 professional wide color gamut and Pantone color certification, and has a 165Hz refresh rate and 3ms response time. The screen supports The 180-degree opening and closing fully balances the needs of users in office, creation and games, and has both.
The new generation of ROG Magic 14 and ROG Magic 15 are equipped with the new AMD Ryzen 9 5900HS processor with Zen 3 architecture, which can handle high-load multi-threaded work of professional software such as 3D graphics, rendering, image processing, and video encoding. In terms of graphics cards, the new generation of ROG Magic 14 can be equipped with NVIDIA® GeForce RTX™ 3060 graphics cards, and the Magic 15 can be equipped with NVIDIA® GeForce RTX™ 3060 and 3070 graphics cards, which have stable and powerful computing capabilities and powerful graphics performance.
The newly launched ROG ring series all-rounder not only inherits ROG's high-performance genes, but also meets the needs of users for high-performance productivity. It is a product that is both office and entertainment. In 2021, all the Magic series products have added fingerprint unlock function, integrated on the power button, and support Windows Hello function, which is convenient, fast, safe and easy to use.
The perfect combination of design and performance ROG shows leading strength
The new ROG released this time has a further upgrade in design compared with the previous ones, and gradually created the unique style of the ROG brand. The highly technological and futuristic design will also become a new trend in the e-sports industry. In addition, at the hardware level, ROG's new products are equipped with industry-leading hardware. Both AMD Ryzen 5000 series mobile processors and NVIDIA® GeForce RTX™ 30 series graphics cards can release the current industry's top performance. With a designed heat dissipation structure, ROG's gaming laptops are not only powerful, but also capable of sustained high-performance output, bringing a continuous high-level gaming experience to gamers.
All new ROG products are equipped with Wi-Fi 6, which can provide high-speed internet connections. In addition, ROG's new products are also equipped with a virtual surround sound system that supports Dolby Atmos and two-way AI noise reduction technology, which truly allows e-sports players to "sound" on the scene.